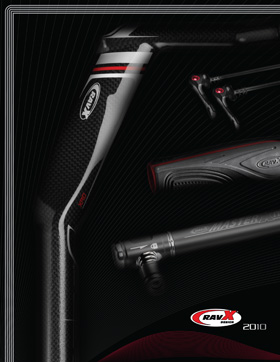 RavX makes quality cycling accessories and components that rival the world's best. I've put in a lot of time creating high-end designs for them since early 2007.  This particular catalog is one of longest and most complicated projects I have worked on.  Not only was I in charge of conceptualizing the design, but I also had to orchestrate all the photo shoots and prepare the entire design.  The book features 80 pages + cover and holds a number of design details that I'm quite proud of.
First of all, I designed 10 different signature background spreads to be switched out throughout the book.  This is intended to keep the reader interested and avoid a feeling of monotony.  I also created an additional 3 spread designs for the high-end product section that stand out from the rest of the catalog.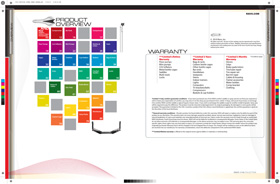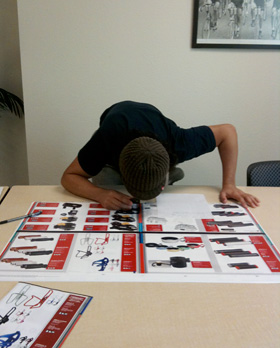 When I design books, I have to take into account the size and girth of the project and choose materials and production techniques accordingly.  This catalog is intended to be shipped around the world, so I also have to choose materials that keep the book structurally sound but do not make it unnecessarily heavy.
Other standout features are the color coded sections, perfect-bound build, metallic Pantone 877 5th color and spot UV coating on the outer and inner covers.  This catalog does a perfect job of portraying the high-quality image of the product it showcases!  Based on etiquette, I can't reveal the final production numbers but let's just say enough were printed.  This is number 4 of the 5 RavX, Inc. catalogs I've designed thus far.
See below for the "race section" page spread which features some of the high end performance saddles.  Further below there's a photo of the book alongside others I designed.  Click to zoom.  If you look closely  you can see the spot UV coating over the product photos on the cover.