A couple of month ago, after seeing one at ASR Surf Expo in San Diego I acquired an Arbor Assault longboard skateboard. I've been meaning to do a review on it, but I wanted to let a couple of months go by in order to really get to know the board. It's about time I write the review. So here we go:
I have one word for the board… Fun! I'm 5'10" and 170lbs. At 42″ long with a wheelbase of 32″ the board makes for a high end all-rounder. Meaning that depending on how you set it up, it can do just about anything. The deck is lightweight with a very responsive and snappy feeling flex. This is due to the hybrid wood/fiberglass reinforced construction. It has a bit of camber and enough concave for feeling secure on the board. Not to mention the grip is great! It doesn't have as much concave as dedicated freeride or downhill boards, but many will find it to be more than enough. As a surfer, I find crazy-deep concaves a bit uncomfortable given that I'm used to riding the complete opposite! (Surfboard decks are convex.)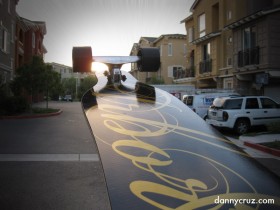 The complete comes set up stock for more of a slalom/carving ride. It comes with Gullwing Charger 9″ trucks and Arbor Slalom Series 72mm 78a lipped wheels. This setup is quite fun for quick carves, not to mention it pumps phenomenally well too. I'd prefer this setup on a minor incline grade hill more than for flatland or really steep grades. Since I wanted to put the board through its paces I tested a few different setups after running the stock setup for a week or two.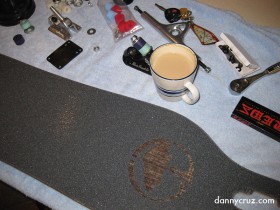 For this purchase, I originally wanted wider trucks so I put on some Paris 180. I was going to be riding flat land for a bit so I combined those trucks with a set of Orangatang Durian Purps. Those Potangs are 75mm and 83a and roll a bit faster than the Arbors on the flats. No matter how loose I ran the trucks, there was no wheelbite. Good news, 'cause I like them real loose. For bushings I chose to run double barrel Venom SHR; a 87a on the top and a 88a on the bottom. Again, only tightened to stop slop. I'm really enjoying that setup as I prefer wider trucks. Pumping is a little bit harder than with the narrower trucks though. On steeper grades or when I want I bit more grip for cornering, I switch out the Durians for the Arbor Slalom wheels which I must say are pretty darn awesome. Recently, I've also run some Abec 11 Classic Freerides Amber, 81a. Those wheels give me a middle ground of rolling resistance on the Assault and they slide incredible well and very quietly. Releasing the back of the board after an deep and powerful carve is also very fun and predictable on the Classic Freerides.
For tricks the tiny nose and tail are enough of a platform, although coming from top-mounts, my big feet are not used to using the nose/tail with the truck bases right smack in the way. I'm getting there though.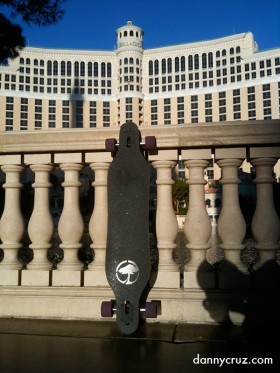 Finally, the graphics are very nice. Black and gold kind of goes well with just about anything. The cutouts, grip-tape job and finish were all done to perfection as well. The one thing I would point out is that Arbor markets the board as an "advanced downhill design" and with all due respect to Arbor and their amazing products, while the Assault can easily bomb the gnarliest of hills, it is not a downhill specific board due to the flex and camber. However, the flex and camber make it a dream to push around and pump. On a recent business trip to Las Vegas, I woke up at 6am before the crowds hit the streets (everyone's likely hung over) and pushed the Assault all over the strip. On my way back, between Caesar's Palace and Hard Rock Cafe, I found some really slick shiny concrete that was tons of fun to slide on.
Overall, I'm extremely happy with the longboard and it's going to be in my quiver until it dies. Looking forward to get out on it today. Again!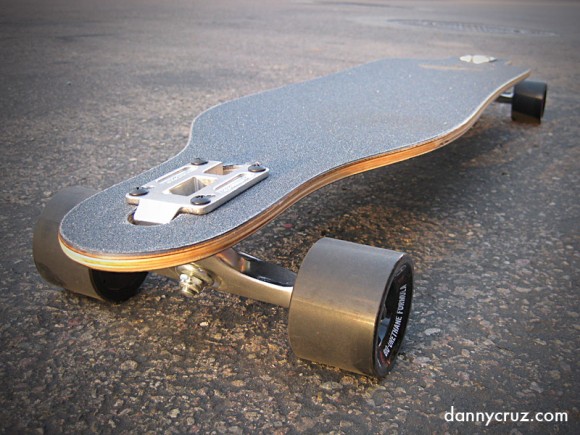 Where to Buy: I receive constant emails about where to buy the Arbor Assault. Here's one I would recommend to buy from. Of course, the one's on sale now have different graphics. But as far as I can tell, that's it.